Industrial Spring and Washer Manufacturer
Belleville springs and washers are highly configurable products that are used in conjunction with complementary hardware (bolts/studs and nuts) as well as other industrial components, such as gaskets and packing material to achieve an optimally tight connection where high spring loads are desired.
Keep Bolted Joints Tight Using Solon's Belleville Springs & Washers
Bolted joints loosen due to a variety of reasons. The loss of bolt preload is one of the most prevalent. Solon Belleville Springs & Washers reduce bolted joint failures by maintaining the bolt preload. They are particularly useful where vibration, differential thermal expansion, relaxation and bolt creep, and bolt yield are problematic.
Solon Belleville Spring & Washer Advantages
Maintain bolt preload under normal conditions
High spring force with small deflections
Absorbs shock and compensates for vibration
Predictable load-deflection curves where straight, progressive or regressive characteristics are required
No deformation or fatigue under normal conditions
Long service life, self-damping, and efficient use of space are among the common characteristics of all Solon Belleville Springs and washer products. Application-specific product groups include:
Typical Belleville Spring Diagram
​

Choosing a Solon Belleville Spring & Washer
Belleville springs and washers are used in a variety of applications across virtually every industry that maintains bolted connections. The washer is not an insignificant engineering contribution—by combining washers in stacks or series or including them in other bolt assemblies, longer service life, lower maintenance and high levels of equipment dependability and safety are realized. Solon offers thousands of catalog washer options—sizes ranging from #4 screw to 4 inches available in both Imperial and metric sizes. With industry-standard and exotic material options, Solon Manufacturing provides a washer solution for every requirement. Our vertically-integrated approach to manufacturing makes Solon custom-friendly. Submit your drawing or contact an application engineer to discuss your needs.
Considerations for Selecting a Belleville Spring or Washer Product
ID
OD
Stacking constraints
Load
Bolt size
Bolt material
Temperature
Environment
Application
Size constraints
Aim preload
Contact Solon Manufacturing for Belleville DIN & Disc Spring Washers
Contact us for more information regarding our Belleville disc spring and DIN washers, or request a quote for further pricing details today. Solon Manufacturing is your trusted source for a wide range of Belleville washers.
Solon Belleville Springs & Washer Resources
Download our Belleville Springs catalog or the Belleville Springs Data Sheet to assist with the selection of a suitable product for your requirement.

Flat load, deflection, or both may be altered by stacking Solon® Belleville Springs in various arrangements.​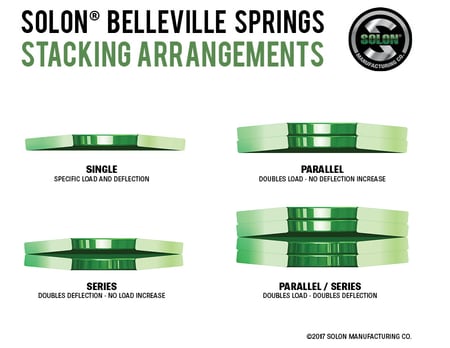 *It is ultimately the user's responsibility to determine product suitability. Solon Manufacturing Co. is not responsible for product that is ordered incorrectly, misused, or misapplied. Contact a Solon engineer for recommended guidelines on product use.