Lightweight and Economical Pneumatic Valve Actuators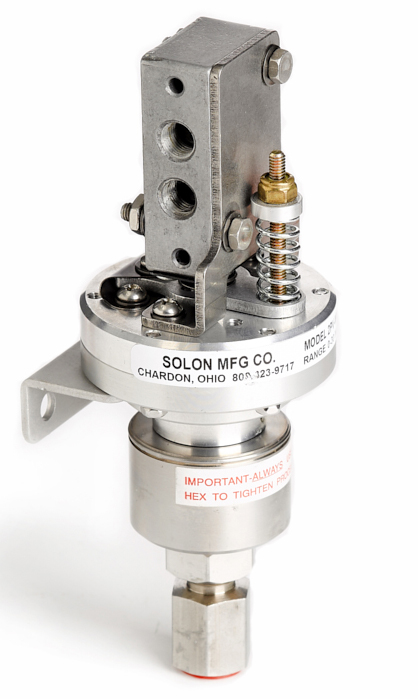 A pneumatic actuator provides automation to a valve. This means that no human interaction is necessary to cycle the valve. In its most basic terms, an actuator is a control mechanism that is operated by an energy source. Within pneumatic actuators, the pneumatic pressure moves the internal mechanical parts, which provides hands-free automation.
How do Pneumatic Valve Actuators Operate?
The way in which a pneumatic valve actuator works is that it utilizes compressed air to generate the operating energy. Pneumatic pressure actuator valves are quick to respond, but are not ideal for environments under high pressures, as gas is compressible. Pneumatic actuators can be either spring return or double snap acting.
What is the Overall Purpose of a Pneumatic Actuator?
A pneumatic actuator converts energy formed by compressed or vacuum air at high pressure into either linear or rotary motion. Pneumatic energy is desirable for main engine controls because it can quickly respond to starting and stopping requests, due to the power source not needing to be stored for reserve operation.
Pneumatic 3-way valve actuators enable large forces to be produced from relatively small pressure changes. These forces are often used with valves to move diaphragms to affect the flow of liquid through the valve. It is responsible for converting pressure into force.
When to use a Pneumatic Valve Actuator?
If you are looking for a low-cost pressure actuator valve option that is robust and easy to set-up, then a pneumatic actuator is probably the most beneficial option. This is especially true if you have an air supply that is readily available for easy linkage. Additionally, pneumatic actuators are readily available in different sizes and torque values depending on your specific application. ​
Unique Pneumatic Valve Actuator Design
The versatile design of Solon's aluminum Pneumatic 3-Way Valve Actuators allows a wide variety of sensing element arrangements and materials to be used in their construction. With an air-operated actuator, air pressure converts to a mechanical force to operate, with decreased spark potential over electro-mechanical pressure switches. Diaphragm, bellows, and piston models can be configured for pressure, vacuum and differential pressure applications. Lightweight and economical, the compact design of the Solon's Pneumatic Valve Actuators meets tight envelope requirements, delivering an alternative to higher-priced options.

Solon's Pneumatic Valve Actuators simplify circuits by eliminating the need for wire shielding, transformers, and solenoids by converting air pressure into linear or rotary motion.
Pneumatic Valve Features
Models with an available range from 2 - 3000 psi (10-100 psi for differential)

PVC housing with aluminum components

3-way block-and-bleed valve (actuated by increases/decreases of pressure at the sensing element)

High max pressure available

Vacuum-sensing element with Buna-N elastomer diaphragm
Pneumatic Valve Benefits
High force & speed

Easy channeling

Tolerates heavy loads

Straightforward design & components

Easy accessibility

Safe

Storage functionality

No risk of overheating

Highly durable

Cost-effective
Pneumatic Valve Actuator Industrial Applications
Solon's pneumatic valve actuators are an effective pressure switch solution in applications where extreme temperatures and spark hazards are problematic. They are particularly useful in environments where ignitable dust and debris is a factor. There are a bevy of industries that currently utilize pressure actuator valves, some of which include:
Contact Solon Manufacturing Co.
Contact us for more information on our pneumatic pressure actuator valves, or request a quote.

It is ultimately the user's responsibility to determine product suitability. Solon Manufacturing Co. is not responsible for product that is ordered incorrectly, misused, or misapplied. Contact a Solon engineer for recommended guidelines on product use.